A few years back I learned about the competitive world of throwing kids' birthday parties. From extravaganzas to simple gatherings, each one has its own feel, nuance and personal touches. Birthday parties can also be a huge stress.
The best parties begin with a great location. The locations I choose, have great support from the staff, food and drinks. Many places have excellent cakes but will work with you to get the cake of your choice at your kid's birthday party. (After all, it's all about the birthday kid!)
Here are a few of the locations we've used over the past few years. Each one offers something unique and different. All have been Birthday-Party-Tested by me!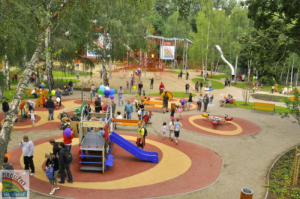 1. Kavárna Korkorán (Located next to Kroužky na Vltavě)
+420 602 699 539
https://www.restauracekorkoran.cz/
https://www.facebook.com/RestauraceaKavarnaKorkoran
Take the 3 or the 17 trams from the centre and head upstream for this fantastic combination of a crazy playground and quirky restaurant/cafe.
First: The playground at Kroužky na Vltavě is a dream come true for kids of all ages.
Rope towers connect to bridges and lookout towers some 7 meters up! To get down, the kids take a slide from their treetop playground!
The kids will definitely be entertained at this place, and there's also a smaller playground for the extra little ones.
Kavárna Korkorán has a solid menu for parties and they worked with us to bring cakes we ordered from a speciality bakery. – If the weather doesn't cooperate, there's plenty of room inside!
2. Sweetcakes cafe
+420 739 157 981
http://sweetcakes.cz/
www.facebook.com/Sweetcakes.coffee/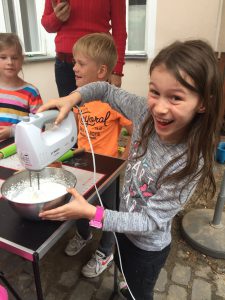 Tucked away in Nusle, this little cafe has a lot to offer. The inside area is very small, but the garden out back has plenty of room for a gang of kids to act like kids. The cakes and food are simply amazing.
Sweetcakes also has a great set of entertainment options for the kids. We chose to make cupcakes and macaroons! All the kids got special attention, all the ingredients they needed and they even got to run the blender! Big excitement in a small cafe!
3. Boulder Bar
+420 605 700 816
www.boulder.cz
www.facebook.com/boulderbarpraha
Boulder Bar is packed with excitement for the whole birthday gang. The Bar is spacious and the food they prepare has a very healthy focus to it, which makes the hosts feel pretty good about what they're feeding all those kids.
The main attraction here is the climbing walls! Boulder Bar can provide you with an instructor who can take the kids for an hour or so to teach them the rules of climbing, some tips and techniques and generally guide their excitement!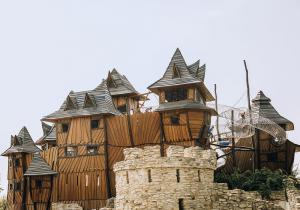 Honourable mention: Mirakulum
+420 730 510 985
www.mirakulum.cz/
www.facebook.com/ParkMirakulum/
To go to Mirakulum is a mind-blowing experience. Kids castle, tree top walks, even tunnels! It's a big park and all your food/cakes will have to be brought in, but you can reserve a small grill space or the very cool cave/grass areas. Bring 2 things for each kid: Bathing suits and flashlights. This is a true experience. It's located out in Milovice, which is about an hour's drive from Prague.